更に改良しましたっ。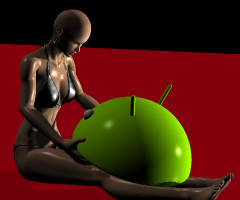 ChangeLog
(from ver1.1 to ver2.0)
- configuration for background
(Gallery application is required to pick it)
- When the analog clock is tapped, today is toasted.
(also refresh screen)
NOTE
- If this is installed, it appears to both WatchFace and launcher.
- If you want to remove background image,
please cancel at Gallery, and tap OK to save.
- Z1 officially supported languages are [zh] [en] [es] [fr].
(not depended country)
Other languages are handled as English,
even if you change with MoreLocale 2.
- 'Choose date format' does not effect in non-numeric date format.
ABSTRACT/MANIFEST/LICENSE/NOTE
- please see the article of ver1.0
JessiWatch-2.0.apk
(251KBytes)
子ウィジェットだからタップ検出が出来ない、というのは誤りでした。